Vi har spurt en del av de største spillerprofilene noen spørsmål i forbindelse med årets PCS Open. Først ut er tidligere verdensmester, Avery Jenkins, som tar turen helt fra USA. Vi ba om korte svar, men det er ikke helt hans stil, så her kommer et langt og utfyllende intervju med Avery (svar på engelsk):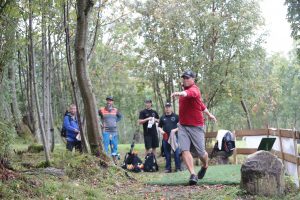 Hva er dine forventinger til årets turnering?
I expect that this event is going to continue to grow as one of the premier events in Norway and hopefully throughout Europe. It's a beautiful landscape and course with lots of challenges but it's a fun, demanding course that offers a great variety of shot selection.
It's a great even because of course it's about playing the tournament but it's about the entire player participation and involvement. It's a great camaraderie as we get to meet new people at the player's party, the clinic and just hanging out throughout the weekend.
I personally had a lot of fun last year meeting many of the new Norwegian players, playing a new course/event and traveling around the local sight after the tournament, it was overall an incredible experience that I will never forget.
Hvordan vil du vurdere dine største utfordrer i turneringen?
When we take a look at the past 5 Norweigian Champions – Ståle, Håkon, Espen, Jostein and Andre…they all have very different games entirely ranging from great driving and putting skills to solid emotional level and toughness on the course.
But I always need to be aware of one player for his sneaky skills not only on the golf course but off the course as well and he's obviously the most recognized Norwegian Champion in the history of Norway Disc Golf. On that note, I would consider Jostein Haland as my toughest competition because he always finds a way to remind you of his glory of being a former Norwegian Champion and he has a method of mentally wearing you down with his overwhelming confidence.
Takk for runden!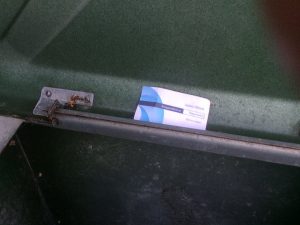 Vi har justert banen litt dette året. Fra 20 til 18 hull. Fem av de korteste hullene er borte, og blir erstattet med blant annet ett par 5, og noen lengre par 3. Hvordan vurderer du banen, og hvor godt må man prestere for å hevde seg i toppen?
These are much needed changes that need to happen as this course evolves and develops into the championship course for this event. I really look forward to seeing these new changes and challenges as I think that the players will be excited for this tournament as it continues to push the best players in the country.
I hope to play much more consistent this year as I struggled on some of the shorter Par-3's and didn't capitalize on some of the much easier holes. With the changes this year and the longer holes, I think that it's really going to provide a good separation for the top players.
It's going to be difficult to predict the actual score to be in the Top-3 but I do KNOW that the player with the lowest score after the Final-9 has a great chance of winning the tournament. 😉
Hvordan tror du turneringsgeneral Jøran Lufall gjør det på hjemmebane? Og hvordan klarer han seg under banketten??
Yeah, that's a very tough question because that could go one of two ways with how he will perform at this year's event. As we all know, he's a very competitive player and he obviously wants to win.
I expect that he's going to want to start the tournament fast with aggressive play early as he will want to get those birdies. Now if he can calm his nerves down just a bit he's going to be very effective on the course and if he can play Disc Golf anywhere near as good as he plays darts, he's going to be very difficult to beat that weekend.
But when is comes to the Player's Party, no one stands a chance on the bull riding, the putting competition or outlasting him on that crazy night as we're all going to envision him as a Tesla Model S racing through the hills and valley of the Norwegian countryside.
Noe annet du vil legge til?
It's a fun-filled event that I'm very gracious that I get the opportunity to attend again this year! You guys and the entire PCS Open Staff do an incredible job of organizing this event, maintaining the course and making a very memorable experience for all of the players that attend.
Special thanks to Jøran Lufall of PCS Construction for his generous contributions to the event as title sponsor and the entire Øveraas Family for their kindhearted hospitality for hosting us on their gorgeous property! I look forward to attending this amazing tournament all year long!